Arts & crafts:

$22 for TWO sets of Loom Bands rubber band bracelet kits (value of $37)

$5 shipping and handling charges
Need help?
Please contact us HERE and it will be our pleasure to assist you.
More Deals
What you get
41% off 2 sets of Loom Bands - super fun rubber band bracelet-making kits
Each set of 2 kits includes: 2 weaving template boards, 2 hooks, 50 clear connector clips and 1200 multi-colored mini rubber bands
Perfect for dozens of projects including bracelets, rings, belts, and more!
Keeps kids creatively busy for hours
A fun, engaging and creative party activity
Ideal for making great homemade Holiday gifts or friendship bracelets for friends and family
The huge selection of colour bands will let them accessorize all their outfits
The perfect parent-child quality time activity!
Details
Limit of 10 products per order
A $5 shipping fee will be added to your order
Please make sure to double-check your address to avoid shipping delays
To gift this product, simply start a separate transaction and enter the recipients' name and address when ordering
Please allow a 2 to 4 week delivery delay. Upon completing your transaction, you will receive a tracking number via email
Shipping within Canada only
If you select to pay with PayPal, please be advised that the order will be shipped to the address associated with this Pay Pal account
Taxes included
Final Sale. Click here to view Tuango Boutique's refund and return policy
Description
This week at the Boutique we have something to spoil everyone in the family! This set of 2 Loom Bands kits is bound to make your little creative youngsters very happy! Most of the kids at school are wearing them and all the crafty ones are making them at home!

A fun and creative activity for children 8 years and up, it will keep them busy for hours. It's also a nice hobby to take up during the Holidays as well as a great way for parents and kids to spend some quality time together. With 1200 colourful bands to arrange in an infinite amount of patterns, it's no wonder kids today are crazy about this kit.

A wonderful Holiday gift! It will stimulate their imaginations and creativity and will afford them hours of artsy fun!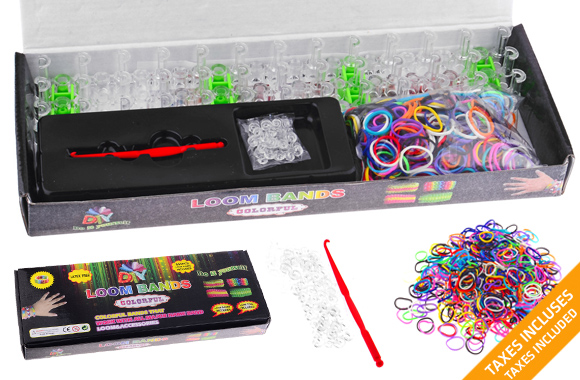 Technical characteristics
2 Loom Bands kits including:
2 weaving template boards
2 hooks
25 clear connector clips
1200 multi-coloured mini rubber bands
Suitable for children 8 years and up (supervision required for children below 8 years of age)
Sold Out

*Limited Quantity
About
With the Tuango Boutique, we invite you to discover a great selection of products that have inspired us. All the products have been carefully selected and are available at amazing prices for a limited time.

In addition, we guarantee that each featured product is authentic and comes directly from the manufacturer, a licensed agent, retailer or importer.