Magnetic windshield cover - Taxes included - 57% off
What you get
57% off a magnetic windshield cover - Taxes included
6 magnets help attach these automotive accessories firmly to your car body and hold the snow car covers in place
One size fits most vehicles: cars, SUVs, trucks
The lightweight yet strong material is easily foldable
Comes in a little storage bag that you can put in the trunk or in the rear of your vehicle
Easy and convenient to use: no tool required for installation
Protects car windscreen from frost, snow, ice and dust, and avoid freezing your hands scraping ice
Extra long windshield snow cover protects your windshield and the windshield wipers
This magnetic windshield cover is perfect to face winter worry-free!
Details
Taxes included
A $6 shipping fee will be added to your order
Please note that your product will be shipped within 3-4 weeks from your purchase date. Delivery should take an extra 1-3 business days
Upon completing your transaction, you will receive a tracking link via email
Please make sure to double-check your address to avoid shipping delays
If you select to pay with PayPal, please be advised that the order will be shipped to the address associated with your PayPal account
To gift this product, simply start a separate transaction and enter the recipients' name and address when ordering
Final Sale. Click here to view Tuango Boutique's refund and return policy
Description
Cover your vehicle with this large magnetic protector and keep your car ready-to-drive in any weather!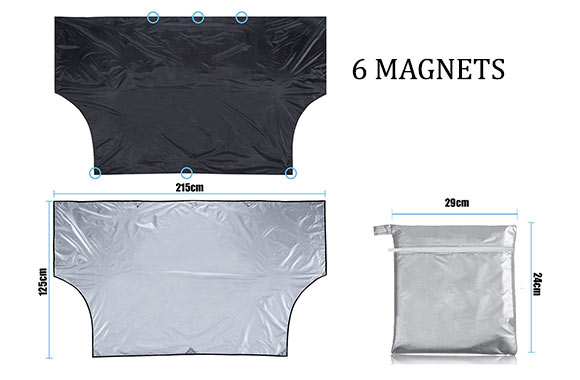 Please note that the colours of these items may vary slightly from picture to reality
Technical characteristics:
Dimensions: 215 x 125 cm
Material: premium waterproof polyester