An incredible all-inclusive 14-day cruise in Spain, Morrocco, Canary Islands and Madeira
What you get
An unforgettable 14-day ALL-INCLUSIVE cruise package from Barcelona to Casablanca, Canary Islands, Madeira, Malaga, and Alicante!
2 departure dates are available in 2019: February 01, 2019 | March 15, 2019
$2998 (taxes included per person) including round-trip international flights between Canada & Barcelona with good itineraries, transfers between the airport, the hotel and the port of Barcelona, 1 night pre-cruise in Barcelona in a well located hotel with breakfast included, 11 nights on the Norwegian Spirit cruise ship on all-inclusive basis (ALL MEALS AND ALCOHOL), UNLIMITED BEVERAGE PACKAGE AND TIPS on board (Total value of $1175 USD per person), MANDATORY SERVICE CHARGES on board. (Value of $14.50 USD per day and per person), all taxes, fees, and OPC
Enjoy an incredible trip on the Norwegian Spirit cruise ship. While onboard make a trip to the Tivoli Pool or soak in one of our four outdoor hot tubs. That's just the beginning with 12 bars and lounges, the Maharaja's Casino, and the Roman Spa & Fitness center at your fingertips, you're ready to have a vacation of a lifetime!
Details
2 departure dates are available: February 01, 2019 and March 15, 2019 (+ $81 CAD / person for this departure date )
Conditions: Maximum of 6 coupons upon purchase for personal use / May purchase 8 additional coupons to offer as gifts (the name of the person for whom the voucher was purchased will need to be confirmed at the time of booking) / 1 coupon valid per person / The coupon price is based on a double occupancy / Triple occupancy or simple, and children's price available on demand with Wingbuddy by calling 1-877-343-5954
With a little extra: An extra of $81 will be required for March 15th departure (payable at the time of booking) / Upgrade your stateroom category (on request) to an ocean view stateroom for +$399 (taxes included per person) or to a balcony stateroom for +$599 (taxes included per person) at the time of booking directly with Wingbuddy after purchasing your coupons
Reservation: You have up to 7 days after the date of your purchase to make your reservation: by phone at 1 (877) 343-5954 (toll-free number) or by email at tuango@wingbuddy.com / You will receive your ticket at least 14 days before your departure date
Please note that you must be 18 or older to purchase a coupon
Kindly note that this offer is non-transferable and that no reimbursement will be issued once your reservation is made
Your passport must be valid for at least 6 months after the departure
For any question, call Wingbuddy toll-free at 1 (877) 343-5954
Taxes: Taxes, local taxes and OPC charges included
Wingbuddy Voyages: Agency's OPC Permit Number: 702994 - Agency's IATA number: 96535095
Other conditions: Please note that no Tuango promotion is applicable on this offer / Click here for a list of details that apply to all offers http://www.tuango.ca/en/pages/details
Description
DESCRIPTION OF THE PACKAGE:

12 Nights / 14 Days

Day 1: Canada - Barcelona (Spain)
International flight with a good itinerary.

Day 2: Barcelona
Arrival at Barcelona airport. Transfer to the HCC Taber hotel (or similar) located in the heart of Barcelona. The rest of the day is free to explore this wonderful city.

The capital of Catalonia, and one of its provinces, Barcelona, is a place of palpable history, where you can lose yourself strolling down the medieval streets of the Barri Gotic. It's a city designed to delight the senses: visit other-worldly Modernista churches like Gaudi's La Sagrada Familia, or treat yourself at a street side cafe to Patatas Bravas or a Passion Fruit Mojito.

Day 3: Barcelona (Boarding)
A transfer will take you to the port of Barcelona from your hotel for boarding the magnificent Norwegian Spirit Cruise ship.

The beginning of your cruise
Departure: 06:00 pm

Day 4: At sea
Take advantage of this day at sea to discover the different facilities of the Norwegian Spirit.

Day 5: Casablanca (Morocco)
The urban landscape of this famous city clearly demonstrates the contrasts between the old and the new. Start with a visit to the central market, a massive kaleidoscope of colors. Then kick off your shoes as you visit the modernist landmark of the Hassan II Mosque, the 3rd largest mosque in the world.

Arrival: 7:00AM
Departure: 6:00PM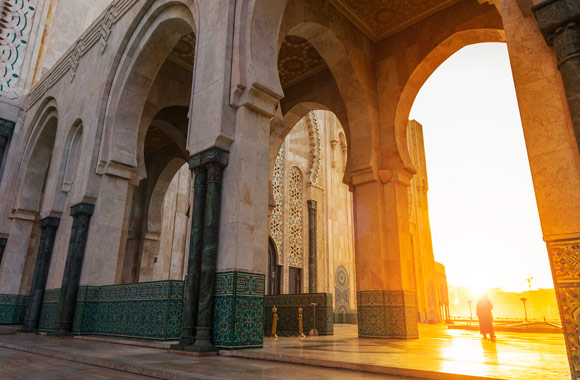 Day 6: At sea
Take advantage of this day at sea to discover the different facilities of the Norwegian Spirit.

Day 7: Arrecife (Canary Islands, Spain)
The capital of Lanzarote in the Canary Islands, Arrecife (which means "reef" in Spanish) is renowned for its abundance of reefs and islets along its coast. If your cruise takes you to Arrecife, be sure to explore this island's many natural wonders, from the fabulous El Reducto beach to the craters, lava tunnels, canals and tubes of Los Volcanes Nature Park.

Arrival: 08:00 am
Departure: 06:00 pm

Day 8: Las Palmas (Gran Canaria, Spain)
Founded in 1478, today Las Palmas is a bustling, cosmopolitan city with plenty of Spanish atmospheres, culture, and history to go around. Take a scenic drive through the Angostura Valley for an unforgettable experience.

Arrival: 8:00AM
Departure: 6:00PM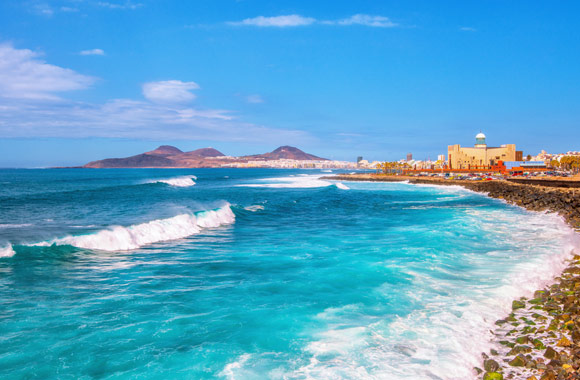 Day 9: Santa Cruz de Tenerife (Canary Islands, Spain)
Located at the eastern tip of the island of Tenerife, the largest of the Canary Islands, Santa Cruz is a natural cruise destination as over half of its perimeter is shoreline. The beaches are perfect for that. From the yellow sands of Las Teresitas to the black sands of the quieter, nudist Las Gaviotas. There's also plenty to do and see inland, especially if you're here during the spectacular Carnival.

Arrival: 8:00AM
Departure: 4:00PM

Day 10: Funchal (Madeira, Portugal)
The mountainous isle of Madeira has been a popular European destination for years. The idyllic island is perfect for exploring with its beautiful beaches, stunning lava formed landscapes and lush, green forests. But sampling the famous Madeira wines is also an absolute must.

Arrival: 8:00AM
Departure: 4:00PM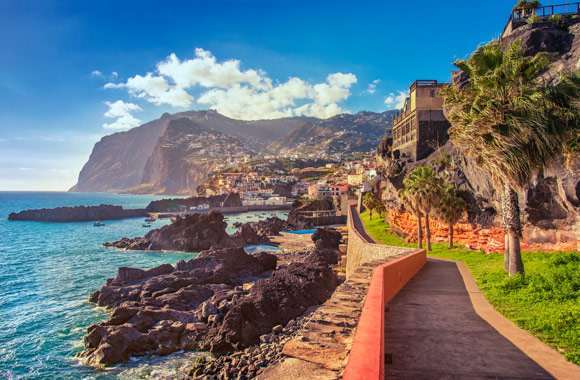 Day 11: At sea
Take advantage of this day at sea to discover the different facilities of the Norwegian Spirit.

Day 12: Granada (Malaga, Spain)
The strategic position to the Mediterranean Sea has always made Malaga an attractive zone for foreign invasions. From Malaga, a trip to Granada showcases an intriguing blend of Arab and European cultures. Be sure to visit The Alhambra, one of the finest examples of Moorish art in Spain.

Arrival: 7:00AM
Departure: 5:00PM




Day 13: Alicante (Spain)
This Costa Blanca jewel lies between mountains and sea fronted with miles of beaches. Spanish Baroque at its finest, Cathedral de San Nicolas is well worth the stop. Discover the La Alcudia Archaeological Sites, a working dig occupied since the Stone Age.

Arrival: 8:00AM
Departure: 3:00PM

Day 14: Barcelona - Canada
You will be transferred to the airport for your return flight home.

End of your cruise
Arrival: 5:00AM

-End of services-

--

Package includes:
Round-trip international flights Canada / Barcelona with good itineraries
Transfers between the airport, hotel, and cruise in Barcelona
1 pre-night accommodation in the heart of Barcelona at the HCC Taber 3* hotel (or similar) in a standard room with breakfast
11 nights accommodation aboard the ship Norwegian Spirit in an ALL INCLUSIVE FORMULA aboard
ALL-INCLUSIVE FORMULA ON THE CRUISE:

ALL MEALS AND SNACKS
ALL UNLIMITED ALCOHOLIC BEVERAGES AND TIP (total value of $1175 UDS per person)
ALL SERVICE COSTS AND TIP ONBOARD (value of $14.50 USD per day per person)

All the taxes, fees and OPC

The package does not include:
Travel insurances
Optional activities and personal expenses in each city
Barcelona local city tax (Between 2 and 4 € per person and per night) payable at destination
About
Wingbuddy
1805 Rue Sauvé O, #215, Montréal, QC, H4N3B8, CA , , Quebec